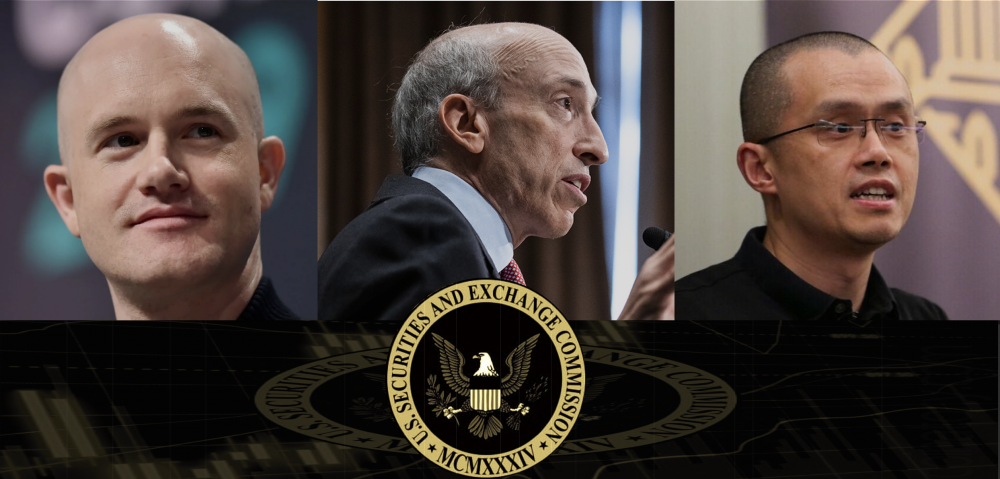 June 9, 2023
SEC's Lawsuits Against Coinbase and Binance Intensified Crypto Crackdown
The U.S. Securities and Exchange Commission (SEC) has taken decisive legal action against two major crypto exchanges, Coinbase and Binance, marking an intensified crackdown on the cryptocurrency industry. These lawsuits have the potential to reshape the crypto market, as they aim to establish the SEC's jurisdiction over the industry and challenge the argument that tokens are not securities and should remain unregulated.
Fallout from the SEC Lawsuit
In its complaint against Coinbase, the SEC alleges that the platform has generated billions of dollars since 2019 by operating as a middleman in crypto transactions while evading disclosure requirements meant to safeguard investors. The SEC specifically points out that Coinbase has traded at least 13 crypto assets that should have been registered as securities, including popular tokens like Solana, Cardano, and Polygon.
Following the lawsuit, Coinbase experienced a substantial net customer outflow of approximately $1.28 billion, resulting in a decline in the shares of its parent company. Coinbase Global Inc. (COIN.O) closed down $7.10, or 12.1%, at $51.61 after earlier falling as much as 20.9%. However, it remains resolute in its commitment to compliance and has stated its intention to continue operating as usual.
The SEC's actions against Coinbase and Binance represent a more aggressive campaign by the regulatory body to bring cryptocurrencies under the purview of federal securities laws. Chair Gary Gensler has consistently argued that tokens should be considered securities, focusing on token sales and interest-bearing crypto products to assert the SEC's authority over the market. In recent times, it has also targeted unregistered crypto broker-dealers, exchange trading, and clearing activity.
While a few crypto companies have obtained licenses as alternative trading systems, no crypto platform currently operates as a full-blown stock exchange. This regulatory scrutiny has led to legal action against other players in the crypto industry, including Beaxy Digital and Bittrex Global, for their failure to register as exchanges, clearinghouses, and brokers.
Crypto companies argue against the SEC's position, claiming that tokens do not meet the definition of securities and criticizing the ambiguity of their rules. Nevertheless, many companies have responded to the regulatory crackdown by implementing stronger compliance measures, suspending product launches, and expanding operations outside the United States.
These legal battles have wide-ranging implications for the cryptocurrency industry. If successful, the SEC's lawsuits could fundamentally transform the market, potentially bringing it under the strict regulations that govern securities. The outcome of these cases will undoubtedly influence the future trajectory of the industry and its acceptance by institutional investors.
In response to these developments, Kristin Smith, CEO of the Blockchain Association trade group, has expressed confidence in the courts proving Chairman Gensler wrong. The crypto industry remains divided on the issue, with various stakeholders closely watching the legal proceedings unfold.