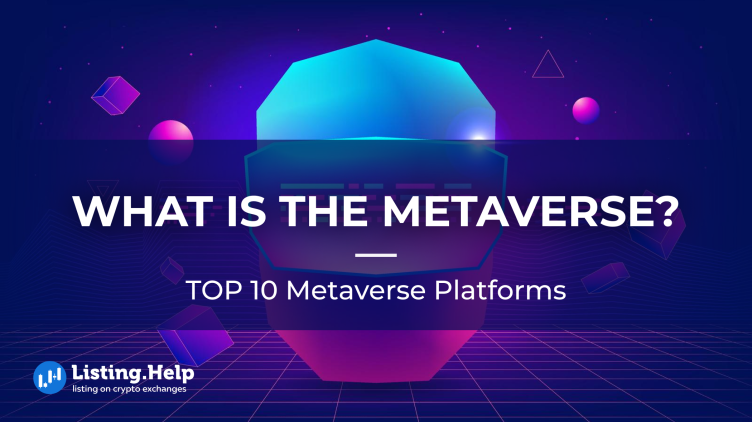 August 10, 2023
What Is the Metaverse? TOP 10 Metaverse Platforms You Need to Know
Exploring the Metaverse: Its Current Position in Today's Digital Landscape
The metaverse is a proposed 3D online universe, seen as the next iteration of the internet, combining various virtual spaces where people can work, play, and socialize. The full realization of the metaverse has not yet been achieved, though elements of its concept can be observed on current platforms, particularly video games. Game developers are exploring its potential through innovative in-game events and virtual economies.
Cryptocurrencies are not a prerequisite for a metaverse, but they can be instrumental in establishing a digital economy. Utility tokens and Non-Fungible Tokens (NFTs) can facilitate this. Crypto wallets like Trust Wallet and MetaMask, in tandem with the transparency and reliability of blockchain technology, could prove beneficial for managing metaverse operations.
Blockchain technology has already been integrated with metaverse-like applications. Notable examples include the play-to-earn game Axie Infinity and virtual reality platforms like SecondLife and Decentraland, all of which are providing users with income opportunities.
Precedence Research, a market analysis firm, predicts the metaverse market will reach a value of $1.3 trillion by 2030. This projection is based on four factors: growing investment in the metaverse, increased demand in media and entertainment, expanded use of metaverse platforms, and a surge in interaction models and digital identities.
Top 10 Platforms Powering the Metaverse
Decentraland
Decentraland is a well-recognized metaverse platform leveraging the Ethereum blockchain. Co-founded by Ari Meilich and Esteban Ordano in 2015, it primarily focuses on the concept of virtual land ownership and development.
In Decentraland, users can purchase, exchange, and sell virtual land with the platform's native ERC-20 token, MANA. This platform offers its users the autonomy to craft distinctive experiences within the virtual universe while maintaining possession and authority over their virtual assets.
2. Sandbox
The Sandbox is a gaming metaverse platform, offering users a space to design, distribute, and monetize their virtual assets. This user-created virtual environment provides an array of tools and assets to assist in game development and the creation of social spaces.
Sandbox, established in 2012 by Sebastien Borget, Arthur Madrid, and Nicolas Pouard, nurtures a vibrant community of creators and players, facilitating collaborative gaming projects and idea-sharing. Initially functioning as a mobile game studio, Pixowl later shifted towards incorporating blockchain technology.
3. Roblox
Roblox, with millions of users worldwide, is a prominent gaming platform in the metaverse. The platform is renowned for its dynamic setting and diverse game choices, providing users with a venue to create immersive virtual experiences and engage in various games.
Aside from gaming, Roblox also features virtual meeting spaces where users can connect and participate in virtual events. Additionally, users can acquire coding skills via the Roblox Studio, making the platform a versatile resource for metaverse users across age groups. Established in 2004 by David Baszucki and Erik Cassel as Dynablocks, an educational tool based on physics, it was later renamed and transformed into a platform for user-generated content and a virtual gaming community.
4. Voxels Metaverse
Originally known as Cryptovoxels, Voxels Metaverse was established by Ben Nolan in 2018. This Ethereum-dependent metaverse platform shares similarities with Decentraland.
Voxels Metaverse users can experience an expansive realm of creativity and discovery with the opportunity to construct, investigate, and trade voxel-based virtual creations. Voxels Metaverse adheres to principles of decentralization and blockchain ownership, which give users complete control over their virtual lands and assets.
5. Spatial
Spatial, an immersive collaborative platform, is specifically designed for conducting remote meetings and events in a virtual setting. It caters to metaverse-based virtual conferencing, letting users connect, interact, and collaborate without being physically present.
Utilizing VR and AR technologies, Spatial delivers remote collaboration experiences that have found application across various sectors. One of Spatial's distinguishing features is its use of AI to create accurate 3D models from user images and physical environments. Spatial was co-founded by Anand Agarawala and Jinha Lee in 2016.
6. ALTAVA Group
ALTAVA Group, a luxury metaverse platform, enables high-profile brands to merge their physical and digital experiences via blockchain technology. ALTAVA, supported by equity and token investors like Hyundai, LG, Spartan, and Animoca Brands, boasts the BAGC Collection NFT, a golf-themed derivative licensed from Elite Apes, The Sandbox, and Animoca Brands.
Additionally, ALTAVA's Second Skin NFT Collection links directly to WOY, its proprietary metaverse, available on both the App Store and Play Store.
7. High Fidelity
Established in 2013 by Philip Rosedale, High Fidelity aimed to develop a cutting-edge virtual reality platform. This blockchain-based metaverse platform emphasizes social interactions, events, and commerce in virtual reality.
High Fidelity offers tools for users to personalize their virtual avatars, join virtual meetings, and participate in virtual trade, striving to foster social connections and memorable experiences within the virtual sphere.
8. Upland
Upland, co-founded in 2018 by Dirk Lueth and Idan Zuckerman, merges virtual property trading with real-world locations. Users can buy, sell, and trade virtual assets mirroring real-world addresses, allowing ownership and management of virtual assets linked to real geographical locations.
Upland provides a distinctive blend of virtual and real-world experiences, encouraging users to explore and interact within its platform.
9. The MetaVRse
The MetaVRse, a renowned development studio for augmented and virtual reality experiences, was established by Alan Smithson in 2016. The platform caters to various industry needs, such as entertainment, marketing, training, retail, real estate, and healthcare, with immersive content and applications leveraging AR, MR, and VR technologies.
10. NeosVR
NeosVR, a user-generated virtual reality platform founded by Karel Hulec in 2014, offers a creative and collaborative platform. NeosVR users can construct their virtual environments, engage with others, and create interactive experiences using a diverse set of tools and assets.
NeosVR primarily focuses on its community of creators, who continuously innovate the virtual reality experience.
Conclusion
Whether it's in the realm of gaming, social interactions, creativity, or business transactions, the metaverse has the potential to reshape human engagement and experiences. Given the ongoing progress and enhancements, it is set to revolutionize our means of connection, cooperation, and immersion in the virtual world.
If this piques your interest and you wish to dive deeper into the intricacies of Web 3 and blockchain technology, we invite you to visit our blog. Here, you will discover an extensive collection of articles exploring these dynamic topics further.